Spine Surgeon - MBBS, MS (Orthopaedics)
Dr. Ganesh Mundhe is a Consultant Spine Surgeon in Pimpri Chinchwad Pune, India. He is trained in the entire spectrum of Minimally Invasive Spine Surgery at some of the esteemed institutes across the world. His special interests are Minimally Invasive Spinal Surgery, Deformity Correction, Artificial Disc Replacement, etc.
Dr. Ganesh believes in a Comprehensive Management Program that includes a thorough evaluation, a broad-based non- operative care program, and when indicated pain management injections and Surgery. For safe spine surgery he uses Intra-operative neuro-monitoring ( SSEP and MEP) , Spine navigation ( Pediguard and navigation stations) and advanced instrumentation techniques as per the requirement.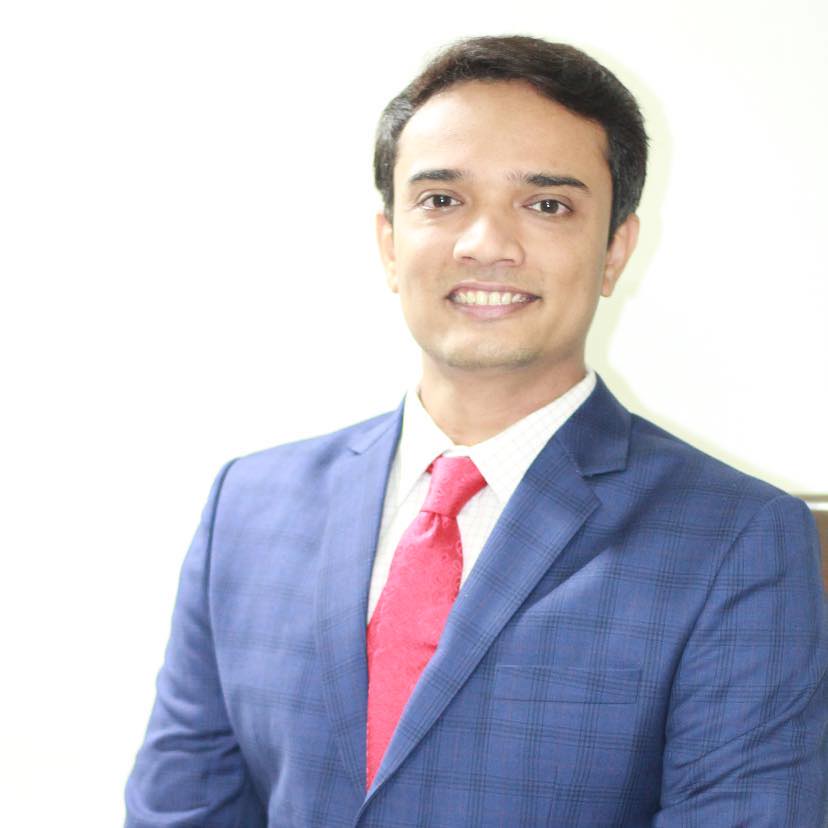 Spine Conditions and Treatments
Specializing in minimally invasive spine surgery, Dr. Ganesh Munde leaves no stone unturned when it comes to providing state-of-the-art treatment as a spine surgeon. He is one among the few spine surgeons in Pune proficient in complex procedures like spinal deformity/tumor treatments, spasticity procedures, and many more, as you can see below. 
Valuable words of appreciation are the most precious rewards
"My son Mayank had a problem with the spine in April (2021) month. Then I consulted with Dr. Ganesh Mundhe at NRS Hospital. He suggested firstly to do an MRI. In MRI, a tumor was found in the spine. Dr. Ganesh suggested for surgery. The operation was held on 24th April, 2021 and after operation my son is living a good life. So, I am very thankful to Dr. Ganesh Munde."
Saurabh Jain
Patient Father
"I had pain in my left leg for almost 6 months and I was unable to even walk at home. After consulting Dr. Ganesh Munde, I went for L4-5 decompression surgery under his guidance. Now after 3 months, I am able to walk without any pain. Thanks to Dr. Ganesh for the excellent care he has taken.
Sandeep Jadhav
Patient
"I consulted Dr. Ganesh Mundhe in the Month of May , he advised me Surgery and I was very tensed as it was a major surgery. The confidence of Doctor gives satisfaction to the patient.Dr. Ganesh was very confident from the day 1. The best part was his nature, whenever I visited him I felt half cured by his nature. The surgery went fine and he has responded to my slightest of query since then.
Manisha Mahajan
Patient
Minimally Invasive Lumber Decompression
MILD is an acronym for Minimally invasive lumbar decompression. It's a relatively new method of treating patients who have moderate to severe Lumbar spinal stenosis (LSS), which is a condition where the spinal canal becomes narrow, causing pain in the lower part of the back.
With this procedure, we can help relieve your back pain so that you can quickly return to your normal, daily activities. This procedure requires a very small incision. Instead of traditional open surgery, we use MILD spine surgery in central New Jersey for quick pain relief and fast recovery.
Transforaminal Lumbar Interbody Fusion (TLIF)
Spinal fusion (such as a TLIF) is a surgical technique to stabilize the spinal vertebra and the disc or shock absorber between the vertebra. Lumbar fusion surgery is designed to create solid bone between the adjoining vertebra, eliminating any movement between the bones. The goal of the surgery is to reduce pain and nerve irritation.
Spinal fusion may be recommended for conditions such as spondylolisthesis, degenerative disc disease or recurrent disc herniations. Surgeons perform lumbar fusion using several techniques. This article describes the transforaminal lumbar interbody fusion (TLIF) fusion technique.
Lateral Lumbar Interbody Fusion (XLIF)
Extreme lateral interbody fusion (XLIF) is a minimally invasive procedure performed through the side of the body to treat spinal disorders and reduce long-term back or leg pain that has not responded to other treatments, such as steroid injections, physical therapy and pain medication.
XLIF differs from traditional procedures because the surgeon accesses the space between each spinal disc from the patient's side, rather than from the front or back, sparing major back muscles, bones and ligaments. 
Oblique Lumbar Interbody Fusion (OLIF)
The lumbar spine consists of 5 vertebral bones lined one above the other and separated by spongy intervertebral discs that cushion the spine during movement. Over the years, the discs undergo wear and tear, causing the vertebrae to painfully rub against each other every time we move leading to degeneration. This can cause lower back pain as well as pain, numbness, or weakness in the legs. Oblique lumbar interbody fusion (OLIF) is a minimally invasive procedure that involves the removal of damaged intervertebral disc and bone, and fusing of two adjacent spinal vertebrae. It adopts a lateral approach when compared to traditional methods of spinal fusion techniques, and in doing so, spares the disruption of major back muscles, ligaments and bones, and preserves back strength.
Posterior Cervical Foraminotomy
Using innovative technology, a cervical decompression can now be accomplished using a small poke-hole incision with minimal tissue dissection and a faster recovery. A microscopic posterior cervical foraminotomy can both be performed in less time, with less tissue damage, and less pain than traditional open cervical spinal surgery.
A microscopic posterior cervical foraminotomy is performed for patients with a symptomatic cervical herniated nucleus pulposus with foraminal stenosis occurring at one or two levels of the spine. It is performed to remove the large, arthritic osteophyte(s) (bone spur) and a portion of the herniated disc(s) that are compressing the spinal nerves. 
Minimally invasive SI joint fusion
SI joint pain is often mistaken for lumbar, or lower back, pain. Because the SI joint sits at the base of the spine, SI joint compression or injury can cause debilitating pain when sitting or standing.
Our minimally invasive SI joint fusion is performed through a small incision in the back, and works to reduce or eliminate this type of pain altogether. During the procedure, our expert surgeons are able to perform a fusion of the pelvis and the sacrum, adding increased stability to the area. This allows any impinged nerves or the spinal cord to be decompressed, releasing any pain or associated symptoms the patient may be experiencing.
Cervical Laminoplasty is a surgical procedure that reshapes or repositions bone to relieve stress on the spinal nerves in the cervical spine.
Cervical Laminoplasty is a surgical procedure that reshapes or repositions bone in order to relieve stress on the spinal nerves in the cervical section of the spine. Lamina is the roof of bone over the back of spinal cord and plastos means to mold. It is different from a laminectomy because the lamina isn't removed, but repositioned or reshaped.
Posterior Lumbar Fusion (PLF) is the general term used to describe the technique of surgically mending two (or more) lumbar spine bones together along the sides of the bone. Bone graft is placed along side the spine bones (not in between the disc spaces, which is called an interbody fusion), and ultimately fuses together. PLF may be performed in conjunction with or without a posterior decompression (laminectomy) and/or instrumentation (use of metal screws/rods). Typically, metal screws and rods are placed so as to impart immediate stability while the bone mends and to increase the fusion rate (percentage of patients where the bone successfully mends together).
Anterior Cervical Discectomy
Anterior cervical discectomy and fusion (ACDF) is a type of neck surgery that involves removing a damaged disc to relieve spinal cord or nerve root pressure and alleviate corresponding pain, weakness, numbness, and tingling. A discectomy is a form of surgical decompression, so the procedure may also be called an anterior cervical decompression.
While this surgery is most commonly done to treat a symptomatic cervical herniated disc, it may also be done for cervical degenerative disc disease. It is also commonly done to remove bone spurs (osteophytes) caused by arthritis and to alleviate the symptoms associated with cervical spinal stenosis.
Cutting Edge Minimally Invasive Treatment for every spinal disease.
For excellent result and quick return to work